Membership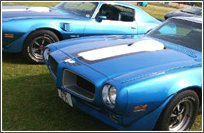 In 1988 a small group of enthusiasts decided that it was time Pontiac owners had their own club in the UK and on 1st January 1989 the Pontiac Owners´ Club (UK) was formed, the primary purpose of which was to allow Pontiac owners to meet on a regular basis and to pool their knowledge and experience in running these cars.
As a club we are able to assist members to locate spares more cheaply and easily through our parts service direct from the US. This is especially beneficial for those owners of older cars.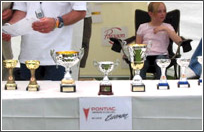 We have a biannual club magazine, called "Wide Track News" and has dates of monthly meetings and events, together with informative articles about the Club and Pontiac cars in general. We also publish two supplementary newsletters per year.
We also have regular meetings around the UK and have a Club stand at many of ther larger shows. We are also present at some of the European shows (Belgium and possibly France and Sweden) and have contacts with other Clubs both here and in the US.
We can advise on many aspects of Pontiac ownership and answer most technical questions regarding virtually any post-war Pontiac model. Also, if you are considering buying a Pontiac, we can tell you if that ´69 GTO is not just a dressed-up Le Mans, or if a Trans Am has been abused in its life!
As we are a recognised Club you will also be able to obtain cheaper insurance. We can provide valuations if required. As a member, you and your car will help us to preserve the Pontiac name and many eventful years of history that stands behind this proud name.
So, whether you drive a Chieftain, Star Chief, Bonneville, Catalina, GTO, Tempest, Le Mans, Firebird, Trans Am, Fiero, Grand Prix or even a Phoenix, the Pontiac Owners´ Club (UK) has a lot to offer. We look forward to seeing you at one of our monthly meetings. All are welcome!
If you want to become part of the club, you can either join now using paypal, download a membership form here or come and see us at one of the many shows we'll be attending!
Single Membership Renewal